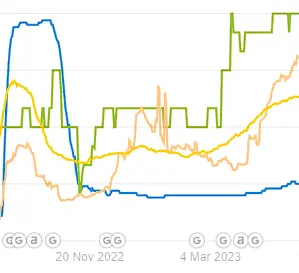 How do I know if I am paying SEO Maintenance?
Do you pay a monthly fee, with no real way to know what that money is going towards?
Meet Case Study #1, who we will call Pauline for privacy purposes. 
Pauline purchased a website build package with a company based in Perth, Western Australia.
Things started well with the company friendly and helpful when discussing and developing ideas for the site, but quickly went south once their $10,000+ site build bill had been paid and they were put onto a $470 a month "maintenance" plan.
AR Softwork was first called in when Pauline had tried and failed in contacting her customer service representative for a week after emails crashed and the website went down. These issues were quickly fixed – but it was merely the tip of the iceberg when it came to this misleading maintenance plan.
Unfortunately, what we discovered was something seen so commonly across sites we take over that is deserves its own article.
It's a term that now boils my blood with a speed only rivalled by dealing with Apple devices.
The commonly tagged-on SEO service after a website build under the guise of "maintenance". Don't get me wrong – a genuine maintenance plan is an essential part of building a site. Things do break over time; 
Plugin Updates
Virus Scanning and Removal
Theme Updates
And plenty more all have a genuine reason to pay a monthly bill to your I.T manager.
However, the part that I have found the most infuriating has been the inclusion of SEO services as a part of this monthly bill. 
For the everyday reader for the purpose of this article: 
Healthy backlinks boost your site ranking by providing authentic connections with similar sites.
Higher rankings mean more organic traffic (real humans) visiting your page and buying your services.

What you see here occurred in under 12 days.
From launch to the peak there appeared over 100 backlinks to the site – A surprising result for a small, family business with a new website.
What was even more suspicious was the actual urls of these backlinks – keywords like seo-ranking, best-backlinks, super-boost-seo and so on. 
These were no genuine backlinks developing meaningful connections to and from the site – this was paid spam.
What Pauline had been completely unaware of was that part of her $470/month had been going towards adding in fake backlinks to her site from spammy sites like these. 
A bit more about backlinks
A good backlink is a good asset.
Backlinks create connections between your site and other, genuine sites which helps search engines such as Google to recognise you as a good place to send similar customers. It's one of the easiest ways to start off your site with a healthy SEO boost.
However, there are few things that can tank an SEO score quite like a bunch of links to spammy sites. You can read more about this here by Niel Patel, SEO guru.
The long and the short of it is this: If Google sees you are linked to spam, it will assume you are spam, and down go those rankings.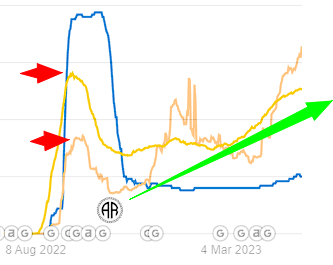 Let's look at a little more of the graph above. After the addition of the spammy links, the site gets an immediate boost to traffic as Google sees this huge increase in backlinks and assumes it must be a quality site. However, within just 2 days, the upward trend takes a huge crash and returns to almost the same level as before all the links appeared and Google realises the links are all spam and tanks the site.
When AR Softwork took over, the first thing we did was weed out those spammy links and get back to genuine connections. The sharp blue decline sees the massive decrease in genuine backlinks down to around 20. The green arrow following is an almost immediate turnaround back to an upward trend in organic page rankings and organic traffic, with a couple of quick peaks due to e-mail campaigns.
This is interesting, but what does this really affect?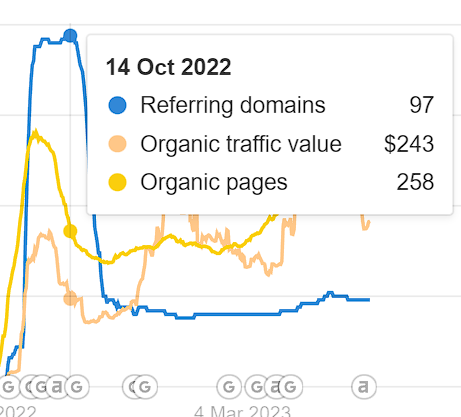 This is the point where things move beyond my unhealthy affection for graphs into the real reason you should care about this. 
Your website exists to make you money.
Before removing the spammy links and whilst paying $470 a month on the phony SEO maintenance plan, this site was only generating $243 of traffic at its maximum.
After removing the spam, adding back only 25 links but by building GENUINE connections, the traffic rocketed up within a few months to $814 of organic traffic whilst only paying for 2 hours a month of SEO work from me – that's $120.
BEFORE: $470 out, $243 in = LOSS of $227
AFTER: $120 out, $814 in = PROFIT of $694
With AR Softwork, you pay for the work you get and no more.
My purpose is to improve your site, make you more money and charge a fair price for my time. If that clock isn't ticking, you aren't being charged a cent.
Under AR Softwork you can rest assured that your site is being managed by a human who holds genuine interest in you and your business succeeding.